Eleven years! Normally (haha!) I post a list of books that I've enjoyed during the year, but this year, I thought I'd do something a bit different. We've all been traveling a lot less. Maybe, like me, you've had to cancel a few trips. Without even realizing it, I've found myself selecting books that help me travel vicariously. So, let's armchair travel, shall we? With that in mind, here are eleven of my favorite reads that will transport you to faraway places.
---
Addressed to Greta, by Fiona Sussman. Imagine receiving an inheritance that comes with a stipulation: you must give up your safe and structured existence and travel around the world. That's exactly what happens to Greta Jellings, and even though she's never left her home country of New Zealand, she sets off on an adventure around the world. Greta is forced so outside her comfort zone she has no choice but to confront some truths buried deep inside herself. It's a marvelous story about finding the courage to be seen and a testament to the transformative power of friendship. Full disclosure: I edited this novel, and I can't recommend it enough. (Fiction)
---
The Vanishing Half, by Brit Bennett. I had to take a deep breath after reading this one. The Vignes twin sisters are inseparable as children, but after running away from home as teens, they end up living in very different worlds — their families, their communities, their racial identities. Many years later, one sister lives with her black daughter in the same southern town she once tried to escape. Across the country, the other secretly passes for white, and her white husband knows nothing of her past. Their fates of the twins remain intertwined through the next generation. (Fiction, some historical, family saga)
---
The Henna Artist, by Alka Joshi. To say I was transported sounds like a cliche, but not if it's true, right? Let this story whisk you away to 1950s Jaipur, all pink and vibrant. Lakshmi works as a highly sought-after henna artist, becoming the confidante to the wealthy women of the upper class. But of course she has her own secrets to keep when a sister she didn't know existed shows up on her doorstep. (Historical fiction)
---
The Cold Millions, by Jess Walter. The Cold Millions transported me in a different way than the other books on this list, not to a place but to a time — a time when workers were fighting for basic rights and humane treatment. It's 1909 in Spokane, Washington, and we're following the Dolan brothers who are trying to get a foothold in life. The supporting characters are so rich and compelling, populated with homeless workers, railway tramps and union organizers. Jess Walter breaks rules and it works because it does it with intention and not a word is out of place. (Historical fiction)
---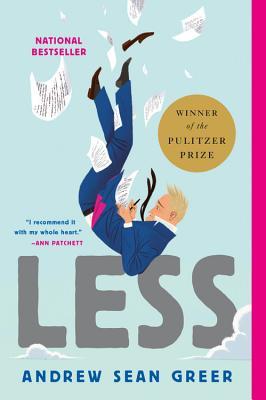 Less, by Andrew Sean Greer. (NB: I've recommended Less before, but there's no better time to reread it.) Poor Arthur Less. He's turning 50. He's a failed novelist. And his former boyfriend is getting married to someone new. Less is determined to handle life's doldrums by running away from his problems. He plans an around-the-world trip to escape the wedding, but of course he can't escape himself. All of Arthur's observations are entertaining and witty, but they don't cross the line to mockery or sarcasm. I love books like this — a story that is emotionally complex, characters that are layered, and a voice that is keen and distinct. What's more: I laughed out loud, many times. (Fiction)
---
The Vacationers, by Emma Straub. Remember getaways with family and friends? Raise your hand if you want to be on a vacation in Mallorca, Spain? What if you combined them? That's what you get in The Vacationers. It was supposed to be the perfect trip: Franny and Jim are celebrating their thirty-fifth wedding anniversary. Their daughter, Sylvia, graduated from high school. But all does not go according to plan: over the course of the vacation, secrets come to light, old and new humiliations are experienced, childhood rivalries resurface, and ancient wounds are exacerbated. (Fiction)
---
Beach Read, by Emily Henry. This book may be a little meta for some of you. Gus is an acclaimed author of literary fiction. January writes bestselling romance. They live in neighboring beach houses on the shore of Lake Michigan. And they both have writer's block. So to get out of their heads and break their creative ruts they decide to switch genres. It's light with witty dialogue and bold characters. In the depths of winter, it's lovely to spend some reading time in the summer on the beach (Fiction)
---
Paris in Love, by Eloisa James. Eloisa James had an opportunity most people can only dream about. She took a sabbatical from her job and packed up her husband and two children to spend a year living in Paris. It reads like a journal of her days enjoying the museums, shops and cafes of the City of Light. Her descriptions of the food alone made me want to jump on a plane (eventually). But it's not all languid pleasure. Her children have to navigate school in a different language and she still has writing deadlines to meet. Because the snippets are presented in diary-type entries, they have a lot of energy and momentum so the book moves at a fast clip. (Memoir)
---
The Museum of Extraordinary Things, by Alice Hoffman. Coney Island, 1911. The height of the legendary, intoxicating fairy tale that drew thousands of pleasure seekers each summer. With her mermaid-like hands and ability to hold her breath, young Coralie is one of the "extraordinary things" her father has put on display at his museum to satiate the public's seemingly unquenchable thirst for the odd. Russian immigrant Eddie has abandoned his Orthodox community on the Lower East Side to become a newspaper photographer — a documenter of what is real. Alice Hoffman has brought this time period to life through (what must have been) reams of research and embodied it in the two main characters. The meaning of family and community is at the heart of this lovely story. (Historical fiction)
---
Siracusa, by Delia Ephron. Siracusa is the story of what happens to two couples on vacation in Sicily. By the end of their short stay, events have occurred which will change their relationships forever—but maybe not in the way that you might expect. Delia Ephron does a marvelous job in drawing well-rounded and believable characters. The four main characters (with each chapter alternating in first person among them) are crafted with precision. Their flaws and blind spots are apparent immediately. I feel I know them better than they know themselves, mired as they were in their own shameless self-contemplation (and often self-congratulation). (Fiction)
---
Atlas Obscura, by Joshua Foer, Ella Morton, Dylan Thuras. "Inspiring equal parts wonder and wanderlust, Atlas Obscura celebrates over 600 of the strangest and most curious places in the world." Yes, please! This book revels in the weird, the unexpected, the overlooked, the hidden, and the mysterious. From the dazzling glowworm caves in New Zealand (NB I've actually been to one!) to eccentric bone museums in Italy, every page expands your sense of how strange and marvelous the world really is. Just flipping through this book was a delight with compelling descriptions, illustrations, photos, and charts (Nonfiction)
---
Looking for more Great Books to Give and Get? Check out the previous lists: 2019, 2018, 2017, 2016, 2015, 2014, 2013, 2012, 2011, 2010
I love book recommendations! Let me know your favorites in comments.
---
Before you go… Starting January 2021!
31 Days of Writing Inspiration is a gentle, friendly reminder of your commitment to your writing practice right in your inbox. Every day throughout January, you'll receive a message from me with meaningful bite-size boosts to help you stay on track. I hope you will be interested in joining me. For more details and how to join (for free).