You want to write, but how do you carve out time from an already hectic schedule? And how do you do it without the guilt? This is the ultimate question, isn't it? Creating space in your day to write necessarily means that you'll be taking time from something—or someone—else. This guilt is what stops a lot of writers in their tracks, especially if little ones are in the picture.
Let me introduce you to our guest writer today, Doña Bumgarner. I reached out to Doña to ask if she would contribute her thoughts on this topic because she's been there. She's a mother, a writer, and, before she was a coach, she spent some high-pressured years as a project manager at Apple. She has valuable insight for anyone (mom or not) who needs to give themselves permission to banish the guilt, along with practical tips for how to do that. I love Doña's enthusiasm and calm energy, and I hope that you'll benefit from her words.
---
If you are both a mom and a writer, you may feel like your heart is being pulled in two different directions all the time. Your kids need so much of your time and energy, but if you don't write, you lose some essential part of yourself.
But where do you find the time and focus, after a full day of feeding, tending, homework helping, tucking in, and cleaning up? If writing and mothering has been feeling like an either/or proposition, you are not alone.
I started writing seriously when my daughter was a newborn. It wasn't because I had copious amounts of free time, or a super supportive partner who took the baby for hours so I could write. I didn't have any of those things. I didn't even have a baby who slept anywhere that was not on my body.
No, I started writing then because I HAD to. I was driven to record that experience I was living right then. If I didn't get those words on paper I was going to explode. Or disappear.
We don't often find that depth of passion that drives our writing, and when we do, it isn't sustainable. It wasn't for me. By the time my daughter was nine months old, it had become an intense struggle to find the time or attention to string words together, let alone polish an essay.
What I've learned in the last seven years of being a mother and a creator it isn't easy, but it is possible to create in the midst of life with children. It takes effort and skill, but those are things I can teach you.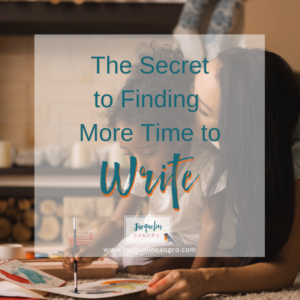 Why do you write?
Although the burning passion I felt about writing didn't last, I never lost track of why it was important to keep creativity in my life. That reason is different for each of us. Maybe you have a particular story you need to tell. Maybe the process of getting your life on the page helps you to understand it. Maybe you have characters who have taken up residence in your mind and need to be freed. Whatever your "why" is, get really clear about it. Write it out. Pin it to your wall. Because you'll need that reminder when your time and attention feel scarce.
This is also important: Nobody else gets to have an opinion about your "why." No one else gets to say whether it is important enough. If it lives in your heart, it is enough. Full stop.
Where does the time go?
Time. Time! It is the word that comes up most often when I talk to the creative women I coach about what makes them feel overwhelmed. There is never enough time.
This is a myth.
We all have the same amount of time. I find the reality that we all have the same 168 hours in a week and we all need to sleep for some of them quite freeing.
What do you want to do with your hours? You get to decide.
The first step is in looking closely at what you already do with your time. For a week, keep a time log. There are tools that you can use to help you with this. I use Toggl to track the time I work on my coaching business, and you can set up custom categories. You can use Moment (iOS) or SaveMyTime (Android) to track how much time you spend on your phone.
Once you have a detailed log, you can make lots of adjustments to free up minutes or even hours in your day. The three most powerful tools I know to find more time in your life are to automate, delegate, and eliminate. These tools work wither you are employed in a traditional job, self-employed, or CEO of your household.
Automate
I use the term automate for creating a system to more quickly get through any repetitive task, or to reduce your decision fatigue. You know that feeling, right? When you are standing in front of the open refrigerator door, trying to decide what to cook? And you did the same thing last night, and the night before? Automate that! Here are some things you can automate in your life:
Set up bill payments through your bank
Set a reminder on your phone for that thing you always forget (taking out the trash cans, in my house)
Make a meal plan. Plan in those nights of take-out and leftovers, too.
Prep lunch box food on the weekend for the whole week
Pick out outfits before bed (for you and the kids, both)
What tasks in your life show up over and over on your time log? What tasks are you always you forgetting? These are the best places to develop a system.
Delegate
Delegation is simply asking for help. We moms so often just do all the things. Because that's our job, or we're good at it, or we want it done our way. But if you want some more time to write, you are going to have to let a few things go. Asking for help is hard, but it is a skill worth learning.
Here are some ways you can delegate:
Hire a cleaning service
Hire a nanny to pick your kids up from school and take them to their afternoon practice so you can finish writing and be totally present with them over dinner and for bedtime
Ask your partner to cover a few more house chores or errands
Use a meal service like Blue Apron or Sun Basket so you don't have to plan the meals at all
Order your groceries online and have them delivered to your door
Eliminate
This is the hardest step for most of my clients, and why I saved it for last.
It is so hard to let things go. We are socialized to believe we can do it all. I believe that the truth here is that we CAN do it all, but we can't do it all at the same time.
So give a good hard look at the things on your to-do list, especially the ones that you just never seem to get to. What would happen if you just crossed them off? Some things we just can't do now, but will get back to at a later point, or in a different child-raising season.
If this step feels really hazy or hard to you, download my free Get Back In Control Of Your Life workbook to help you get super clear about what is most important right now in your life, so you can make room for that. Letting go of the rest will feel so much easier after this process.
Here is the truth: Embracing the practice of regularly reviewing your life for what you can let go—whether that is by creating a system for it, by asking for help with it, or by letting it go—may mean the difference between having space for a writing practice and just talking about writing but not actually doing it.
What are you willing to change, to make room for your writing practice?
---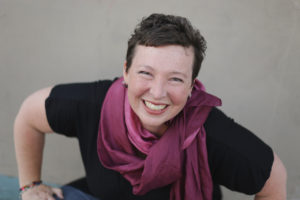 About Dona: Doña Bumgarner is a life coach, mama, and maker who works with creative entrepreneurs who want to do meaningful work and also be awesome moms. They want to get out from under the guilt and overwhelm and find a little space for themselves again – but it feels impossible to balance all the pieces. She helps them focus their time and energy so they can confidently pursue their passions, make a difference in the world AND be present and engaged moms. She loves to help women get back in control of their time and to conquer their overwhelming to-do lists. You can connect with her on Instagram and Facebook, or subscribe to her podcast, Nurturing Habit.