Chocolates and flowers are fleeting; books are the gifts that keep on giving. Here are a few recommended reads for Valentine's Day, or any day, really.
For those who are in love with life…Devotions, by Mary Oliver. This collection is Mary Oliver's best work as selected by the poet herself. For a career spanning 50 years, I'm sure this was no easy task! Her poems resonate because they give us a window into our souls. They are mini instruction manuals that offer guidance for how we can be our best selves. She doesn't let you off the hook, but she doesn't reprimand either, only asking you to keep trying.
For those who love the classics: Emma, by Jane Austen. Emma fancies herself a matchmaker (okay, some might call her a meddler) who does not believe that she will ever find love. '"I never have been in love; it is not my way, or my nature; and I do not think I ever shall." (Famous last words as our dear Emma finds herself on the receiving end of her own best intentions.) Why does this novel stand the test of time? It's a comedy; Emma is charming; and Austen reminds us that sometimes we have to take a step back to be able to see the forest for the trees.
For those who remember what it was like to be an outsider…Eleanor and Park, by Rainbow Rowell. On the surface, this seems to be a simple boy-meets-girl story, but often it's the simplest stories that stay with us the longest. Eleanor and Park are social outcasts. They find comfort in each other, slowly developing a friendship and then a romance. The story alternates between the two, usually in small sections, covering most of their junior year of high school. Rainbow Rowell's writing style is honest without being sappy.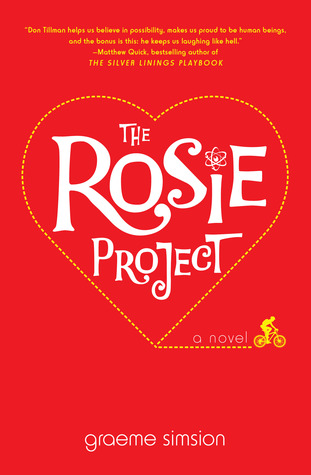 For those who want to root for the underdog…The Rosie Project, by Graeme Simsion. Highly intelligent, socially awkward Don Tillman is associate professor at a university genetics department. (Reminds me of Sheldon Cooper of The Big Bang Theory.) Don is looking for a wife, and he decides to go about it in a very methodical way. He develops a very thorough questionnaire, but gets nowhere. Enter Rosie. She's "not suitable" as Don would say. She meets none of his criteria. But, as a friend, he decides to help her find her biological father since he has extensive knowledge of DNA testing. Romance and hilarity ensue.
For those who want a feel-good love story…Paris for One and Other Stories, by JoJo Moyes. Imagine arriving in Paris for a romantic weekend getaway only to find that your significant other decided not to come. Even though Nell isn't a traveler, she is going to make the best of it. The story is fun and charming. A definite win for Valentine's Day. And…Paris!
For those who need a pick-me-up…The Red Notebook, Antoine Laurain. Another charming story set in Paris! I was rooting for Laurent, the bookshop owner, and Laure, the woman with the red notebook, even as the story moved toward its inevitable and, much hoped for, conclusion. The story reminded me a bit of Sleepless in Seattle — the main characters do not share the same scenes for most of the story. Each is in his or her own sphere, as they are moving toward each other.
---
Both novellas Paris for One and The Red Notebook are set in Paris. The City of Light comes alive as another character, making us feel we are sitting at a small sidewalk cafe or strolling along the narrow streets of the Montmartre. How did these authors do it?  More importantly, how can you do it in your story?
My new online class, Writing About Place: Five Days to Immersive Setting, will give you the tools you need to create a dynamic, rich setting.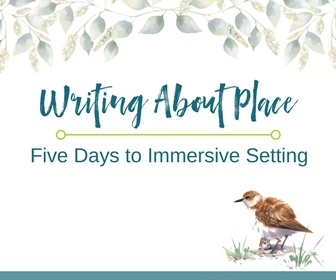 This is what I love about this class:
It's five days, about one hour per day. It can be difficult to keep up with a multi-week course. I created this class to give you the just right amount of information to make an impact on your story now.
It's one topic. We'll deep dive into place and setting so you can make the location feel like another character in your story.
It's really about connection. All of the exercises are personal and designed with you in mind. They use your power of observation to help infuse meaningful details in your writing.
Writing About Place: Five Days to Immersive Setting runs February 19-23 for $59. Registration closes on February 17. For more information and to sign up, head over to the course page.