Scenes are the building blocks of fiction. Every scene contributes to your novel in some way whether through characterization or plot progression. I like to think of a scene as a miniature story arc within a novel. If you have the wrong scenes or if your scenes are in the wrong order, your story can stall. Let's take a look at three easy steps to build the framework of a scene. But first…
What is a scene?
Scenes highlight your protagonist's growth as a character and put your characters through their paces as they attempt to reach their goal. A scene has a beginning, middle, and end that develops the interaction between characters and moves the plot forward.
As a book coach and developmental editor, I find that many writers don't give enough consideration to scene development so the scenes lack tension and escalation. The plot and the characters stagnate.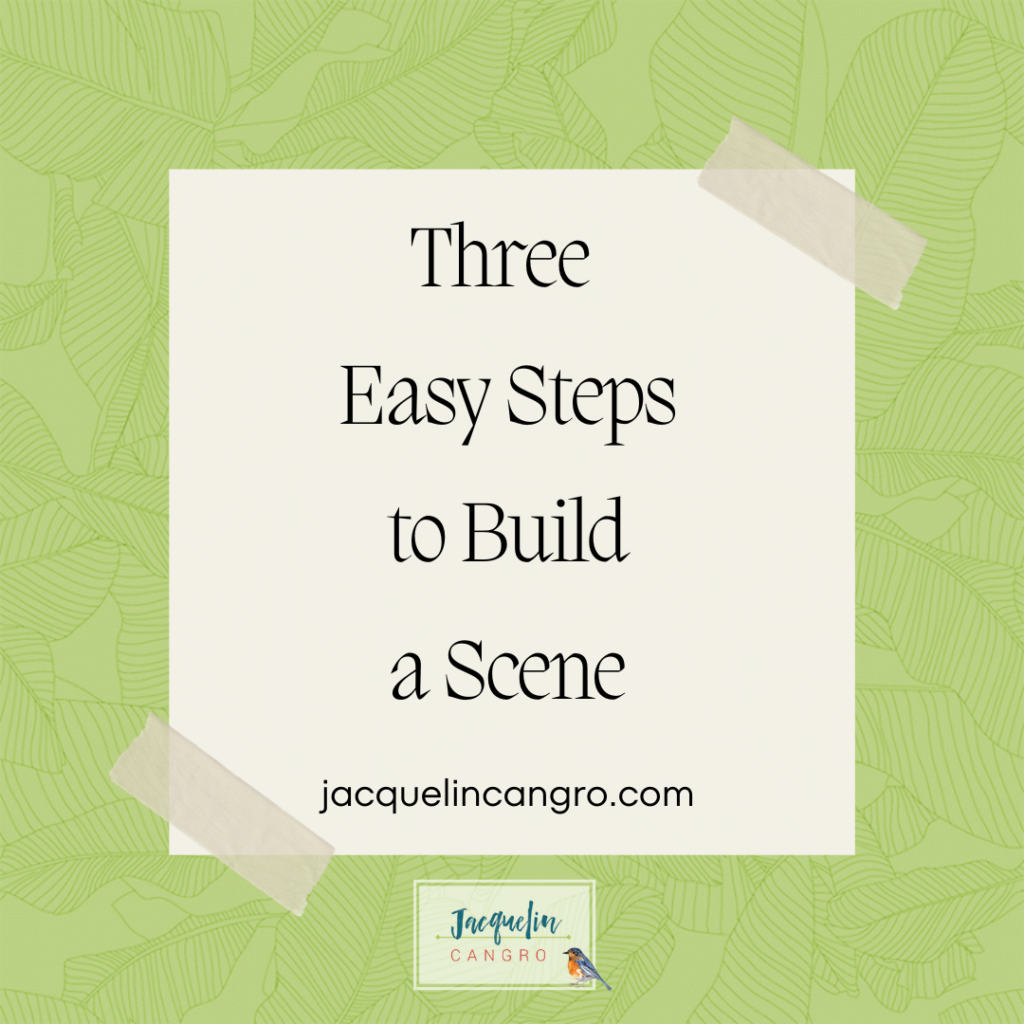 What is the purpose of this scene?
First, one of the most important questions to ask yourself: what is the purpose of this scene? Start writing each scene with an intention of what you'd like the reader to learn about your characters and their situation. Then focus on shifting your protagonist's emotional state from the beginning to the end of the scene.
Build Your Scene in three Easy Steps
Open with an update: The start of a scene is a good opportunity to get the reader up to speed on what's happened since the last scene. What has your protagonist done between scenes? What progress has been made? Where have they faltered? As this scene begins, set (or reset) the location and characters for the reader and move the story forward.
Heighten the tension: While the scene may open on an even keel, things should quickly become more difficult for your characters. This is the "but" of a scene, as in "everything is okay, but then something happens. What obstacles will your protagonist encounter? What will they have to overcome? What challenge will they face that makes their life harder?
End with a promise for the future: By the end of the scene, your character may have overcome the hurdle, though they haven't yet gotten their desire or achieved their goal. Therefore, they will need to continue on their journey. Can you offer a small hint at what is to come? What conflict will your protagonist face in the future?
Pair this post with my previous post about Four Reasons Your Novel Needs Backstory for a solid complement on scene and summary.