Having been to many writers conferences, I know they are hectic and overwhelming. This is especially true if you'll be pitching your manuscript to a literary agent. Here are my top seven tips to maximize your opportunity, and stay sane.
1. Make sure your manuscript is ready for prime time.
I mean, really ready. It doesn't do you or the agent any good if you're banking on an idea and a dream. For fiction and narrative nonfiction writers, this means having the entire manuscript completed and edited. For nonfiction writers, this means having a solid book proposal and the first three chapters written. Pro tip: If you need someone to review your synopsis or book proposal, I can help with that!
2. Memorize your pitch.
You may have just a few minutes to talk with a prospective agent. Don't be the writer who stumbles over their book description with lots of uhs and ums. Pro tip: Start crafting your pitch with one of these basic templates from Jane Friedman: Fiction and narrative nonfiction: I have a completed [word count][genre] titled [title] about [protagonist name + small description] who [conflict]. Nonfiction: Answer these questions…So what? Who cares? Who are you?
Does all this sound a bit stilted? Maybe, but it will avoid that dreaded thousand-yard stare where your mind goes blank and you can't even remember your protagonist's name.
3. Don't rush.
Even though your time will be limited, you don't have to get through your pitch like you just drank two Red Bulls at a rave. Take a deep breath. Speak slowly, clearly, and confidently. Pro tip: Just before you go to your pitch session, use whatever method of encouragement works for you. Here are some ideas: Call a friend or family member for motivation. Read an inspirational quote. Write in your journal. Listen to a favorite song.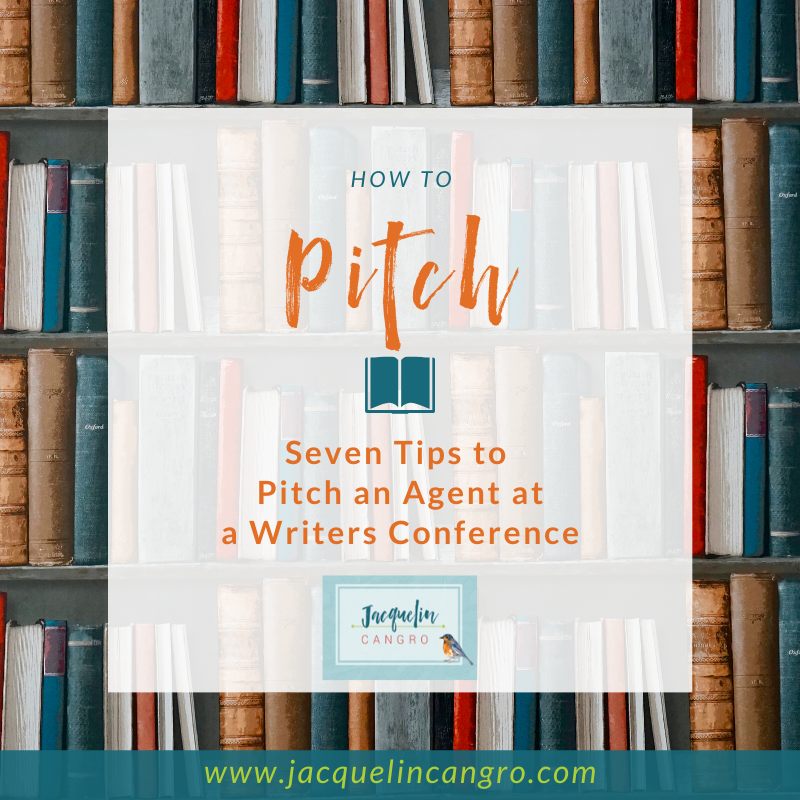 4. Show an agent that you're open to feedback.
Publishing a book is a long game. It can easily take 18 months (or more!) from contract to printed book. Agents want to know that you're flexible and focused. That includes being receptive to comments. Pro tip: Come with a few questions about the agent's process, geared toward gaining insight into your manuscript.
5. Believe in yourself and your work.
This can be hard, I know. But you've worked on your book for months (maybe years). Approach the agents with confidence. They are real people (really!), and they want you to succeed. They are seeking great stories. You're not bothering them. That's why they're there.
6. But…don't be overly sentimental.
Publishing is a business. While you want to believe that your passion for your story is contagious — and it is to a certain degree — position yourself as a professional author and persuade the agent based on the quality of your storytelling.
7. An agent requested your manuscript. Now what?
First, congratulations! That's terrific news. Next, know that there is no urgency. Let me repeat that. There is NO urgency. As much as the agent is looking forward to reading your manuscript, they aren't refreshing their inbox every 60 seconds waiting for it. Pro tip: See point number one. However, if you want one more read-through, and it takes you another month (or two, or three), take the time you need to prepare and polish your work.
---
NEW COURSE ALERT! I'm really excited to teach a new eight-week online class through The Loft Literary Center. Novel Revision: Beyond the First Draft will take you step-by-step through the novel revision process. It puts everything I do on a daily basis, with nearly 20 years in the publishing business, into one course. From character development to plot problems to backstory issues, we'll make sure your story is the best it can be to keep readers hooked until the very last page. You'll learn how to analyze your draft, spot any problems or weak areas, and get the tools to fix them. Class begins on March 18. Hope to see you there!