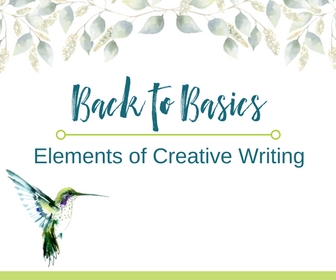 Back to Basics: Exploring the Elements of Creative Writing
My most popular workshop at The Loft Literary Center is Back to Basics: Exploring the Elements of Creative Writing. In this online class, we will explore essential building blocks of creative writing through interesting lessons and fun exercises. Each class is completely devoted to one element of story to sharpen your skills in that area.
Whether you need some fixes for common plot problems or want to brush up on dialogue, these targeted classes will provide you with the strategies and techniques to increase the depth your writing.
Week 1: Beginnings/Endings
Week 2: Point of View
Week 3: Narration
Week 4: Suspense/Plot
Week 5: Characterization
Week 6: Dialogue
Week 7: Setting/Description
Week 8: Revision
Join my list (and get my occasional newsletter) to be the first to hear when registration opens again. 
Pitch Perfect:Write a Query Letter that Gets Noticed
 Let's demystify the publishing process and set your book up for success
This online workshop is designed to take all the guesswork out of writing a query letter. I've distilled everything I know about the process (after 20+ years in the publishing industry, it's a lot!) into this 90-minute small group workshop, including:
The five essential elements every query letter should have 

The secret sauce to the all-important pitch paragraph

How to distill your 300-page manuscript into 400 words

Dos and don'ts for finding comp titles 

How to reduce overwhelm and build confidence as you send your work into the world 
Best of all, you can send me a draft of your query letter after the class for direct, industry-tested, and personal feedback. You'll get my actionable guidelines on how to revise so you're not flying blind. I'm with you all the way!  
Some query workshops charge hundreds of dollars for large webinars and don't include personal feedback or time for questions, and I'm determined to change that.  
I limit each workshop to only five writers, giving you plenty of time and freedom to ask specific questions related to your manuscript – and get specific answers.  
Let's prepare to get your manuscript out into the world together!
$75 
Includes your 90-minute live, online workshop and 1:1 query letter review
September 22, 2023 at 12:00pm EST
Want to join but can't make this live workshop? 
Contact me to be added to the waitlist or to book an independent query letter review.