Hi.  I'm Jackie.
I am a developmental editor, creative writing instructor, and writing coach dedicated to helping you harness the power of observation and curiosity to sharpen your writing skills.
My goal is to strengthen your work while remaining true to your vision. I do this by providing clear suggestions to give you actionable feedback, so you know the next steps to make your story the best it can be.
As a writer, I know the ups and downs of the creative life. I understand how scary it can be to put your work into the world. But your story was meant to be told, and you don't have to do it alone. I have worked with writers of all stripes from those taking on their first story to New York Times bestselling authors. I served as editor for my first book, The Subway Chronicles: Scenes from Life in New York (Plume), which contains 27 essays about the New York City subway system written by well-known straphangers such as Jonathan Lethem, Colson Whitehead, Calvin Trillin, and Francine Prose. The collection received print reviews nationally, and I appeared on a variety of broadcast media outlets such as CBS Morning News, NY1 and NPR.
My short fiction has been published in the literary journals Valparaiso Fiction Review, The Cortland Review, and The Macguffin. My essays and other non-fiction writing have appeared in Preservation Online, Prick of the Spindle, Narrative.ly, and History-Magazine, among others. I hold a MFA in Creative Writing from Georgia State University. I've taught creative writing for fifteen years in person at the College of New Rochelle and online at The Loft Literary Center. And after nearly twenty years working in Big Five book publishing in New York City, I have an insider perspective.
Whether I am editing your manuscript, guiding you in one of my creative writing courses, or coaching a workshop session, I'm in your corner with encouraging yet honest feedback. If you're ready to take your writing to the next level, I can help. Drop me a line and let's discuss.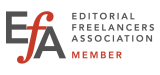 P.S. In the meantime, sign up for my newsletter at the bottom of this page to receive my free editing checklist.
To be yourself in a world that is constantly trying to make you something else is the greatest accomplishment.